Not for the faint of heart!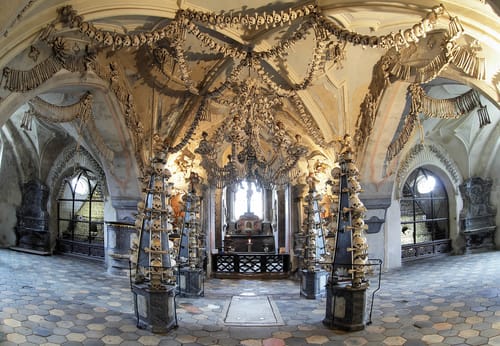 Want to Come Out and Play?
Isn't it a Church to Die For?
If you are faint of heart, this post is not for you. Otherwise, read on. Interested in decorating your home with human skeletons? If so, the kostnice (ossuary) in Sedlec, near Kutná Hora in the Czech Republic, will give you lovely examples of this unusual style that will have the police knocking on your door in no time, Don't say I didn't warn you! Dubbed the Church of Bones, the quaint yet eerie chapel's exterior doesn't prepare one for what lurks underneath—an alluring tale of mystery and death!  
The Sedlec Ossuary is estimated to contain somewhere between 40,000 to 70,000 skeletons.
First a little history of the sicko ossuary. Don't yawn! It all began in 1278 when the King of Bohemia sent the abbot of the Sedlec Cistercian Monastery to Jerusalem.
He's said to have come back with a jar of soil from the Golgotha, the site where the crucifixion of Jesus Christ is believed to have occurred and spread it around the local cemetery.
When news of the "Holy Soil" became public, people from all over the region started requesting to be buried there. (Some people believe everything they hear.)
Anyway, the bones in Sedlec Ossuary were exhumed in the 15th century to make room for the town's expansion, as well as new burials. In 1870 Frantisek Rint, a woodcarver extraordinaire, was appointed (does that mean he wasn't paid?) to excavate and organize the bones stacked in the Gothic church's basement.  If you enjoy the macabre, then the resulting displays won't disappoint.
Four bell-shaped mounds that occupy the corners of the chapel. A chandelier of bones, which contains at least one of every bone in the human body, hangs from the center of the nave with garlands of skulls draping the vault. Other works include piers and monstrances flanking the altar, a coat of arms of the House of Schwarzenberg, and the signature of František Rint, also executed in bone, on the wall near the entrance.
Still interested? You're not the only one! Attracting over 200,000 visitors annually, the ossuary is one of the most visited tourist attractions in the Czech Republic.
Intrigued enough to visit? I'm positive your local travel agency can help you. Just don't go alone!